Welcome from the Head of School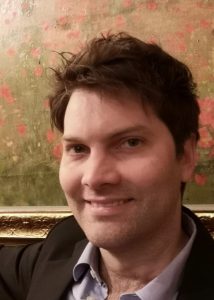 Children innovating the future
I wish to extend a warm welcome to you on behalf of the Košice International School (KEIS).
I am honoured to be part of this groundbreaking learning journey to establish an International Baccalaureate (IB) Primary Years Programme (PYP) school in Košice – the first international school in Eastern Slovakia. This project is the culmination of my lifelong learning across seven different countries from Oceania and South East Asia to Europe and Scandinavia.
Born from the rainforest along the Great Barrier Reef in Australia, I have been in the IB environment for the past seven years, leading several schools in multiple countries through every phase from becoming an IB candidate school to maintaining IB Primary and Middle Years accreditation.
Our aim at KEIS is to provide the most vibrant, rigorous and leading world education for Košice and Eastern Slovakia. In order to achieve this, KEIS will be opening its doors in September 2020, growing into providing an IB continuum of education.
At the centre of KEIS is the IB Learner Profile. We aim to create a cultural environment of 21st-century teaching and learning that involves all stakeholders as we all strive to live, eat and breathe these ten attributes in all that we do:
Principled
Reflective
Inquirers
Caring
Open-minded
Thinker
Knowledgeable
Risk-takers
Communicator
Balanced
Unparalleled in culture, environment, teaching, learning and assessment, KEIS will offer a unique access to education that aims to create internationally minded, global citizens with attitudes, attributes, concepts, skills, knowledge and action to make the world a better place.
Across all my years of experience, my approach as Head of School at KEIS is about what really matters in life, what kind of future global citizens we want to inspire and how passionate and innovative educators can provide a safe and supportive environment.
I look forward to collaborating with you all towards making KEIS a respectful and open-minded community of lifelong learners.
To find out more about the IB approach and what KEIS will grow into, please take a look at the links provided below. I also invite you to visit my ePortfolio at www.michaelcresswell.com.
Michael Cresswell B.Ed M.Ed PG ODE
KEIS Headmaster
Official International Baccalaureate Organisation website: https://www.ibo.org/research/
IB Learner Profile: https://www.ibo.org/benefits/learner-profile/
IB Research key findings:
The impact of IB programmes in the Africa, Europe, Middle East (AEM) region (2018)
https://www.ibo.org/globalassets/publications/ib-research/aem-key-findings-2018-en.pdf
Programme specific key findings from research on the Primary Years Programme (2016) https://www.ibo.org/globalassets/publications/ib-research/research-pyp-key-findings-en.pdf
How schools evaluate the success of the International Baccalaureate Primary Years Programme (Kong and Sperandio, 2013)
https://www.ibo.org/globalassets/publications/ib-research/summarypypsuccess_finaleng.pdf