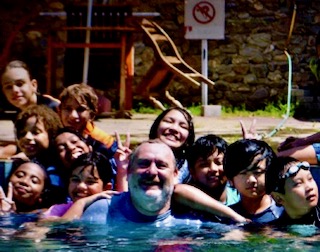 New PYP Teacher at KEIS
Even in this unprecedented time our school is changing. New families are expanding KEIS community and we can also welcome new experienced PYP teacher – Mr. Stephen Bown. Stephen will take over Year 6. Read how he introduces himself:
"My formative years began in a small mining town in South Wales. This was turned upside down when my family and I moved to a another mining community in Zambia, Africa. The change was huge and wonderful. After a year I started traveling back and forth to boarding school in England. Boarding school was great and I had amazing teachers who were as eccentric and interesting as those in Hogwarts. The usual confusion of adolescence and changes in the 70s and 80s effected my initial career choice and I delved into various jobs. It was the birth of my sons that awakened my desire to teach and travel the world with them. Since qualifying as a teacher I have worked in Wales, London, Switzerland, Oman, Azerbaijan and most recently Timor-Leste. I am committed to the PYP philosophy and sharing the fun of learning with the spirit and caring of my students."
We wish Stephen all the best with students and warm welcome to Košice!