International Primary School
Children Innovating the Future
Kosice International School (KEIS) is the only answer to the high demand for a world-class, quality education for both Slovak and Ex-pat families living in Eastern Slovakia. We bring to the greater Košice region a globally-recognised international curriculum, provided by experienced International Baccalaureate (IB) Primary Years Programme (PYP) teachers.
International Curriculum in Košice
To ensure the highest quality curriculum for your kids KEIS implements the International Baccalaureate Primary Years Programme (IB PYP). KEIS is a Candidate IB PYP World School. This attractive and 21st-century pedagogy and curriculum, with experienced and enthusiastic educators from around the world, motivates and inspires our learners and parents. Over time, KEIS will provide education at all primary year levels. The IB PYP prepares students to succeed in an interconnected world that requires the next generation to have universal attributes and skills. Creativity and critical thinking is valued through an inquiry-based approach to teaching and learning. Students asking conceptual questions in a transdisciplinary world of learning is a crucial element of inquiry that will support their development within and beyond the school context. At KEIS we will welcome kids with all different backgrounds – Expat, Slovak and multilingual families. This year we will open classes from Year 1 to Year 7. From 2022 we will open International Kindergarten for kids of 3 years and above and secondary school from 11 years of age (Year 7 and 8). Our International Kindergarten will follow reputable International Baccalaureate Primary Years Programme curriculum as well.
What is most exciting is The Learning Community for KEIS and our local and national context. KEIS is here to reshape the discourses of 20th-century thinking and practices in Slovakia, as well as drive the future progress for the entire region. KEIS is about to break through traditional educational discourses in Slovakia by implementing the PYP in the most authentic way. We are able to deliver a genuine version of the PYP which is the first of its kind in all of Slovakia. No other school in the country is equal to the quality of education KEIS provides. This will reflect an improvement in living standards in Eastern Slovakia and give people more reason to stay and return to this booming region. We also rely on local businesses, corporates and municipalities who share this common goal with us, it is our vision statement: children innovating the future .
Location
The school will operate in quiet green area at Poľná 1 St. in Košická Nová Ves. The premises went through extensive renovation, transforming them into a 21st century state-of-art school facility. The distance from Kosice city centre is less than 10 minutes, in a nice and peaceful, natural residential setting.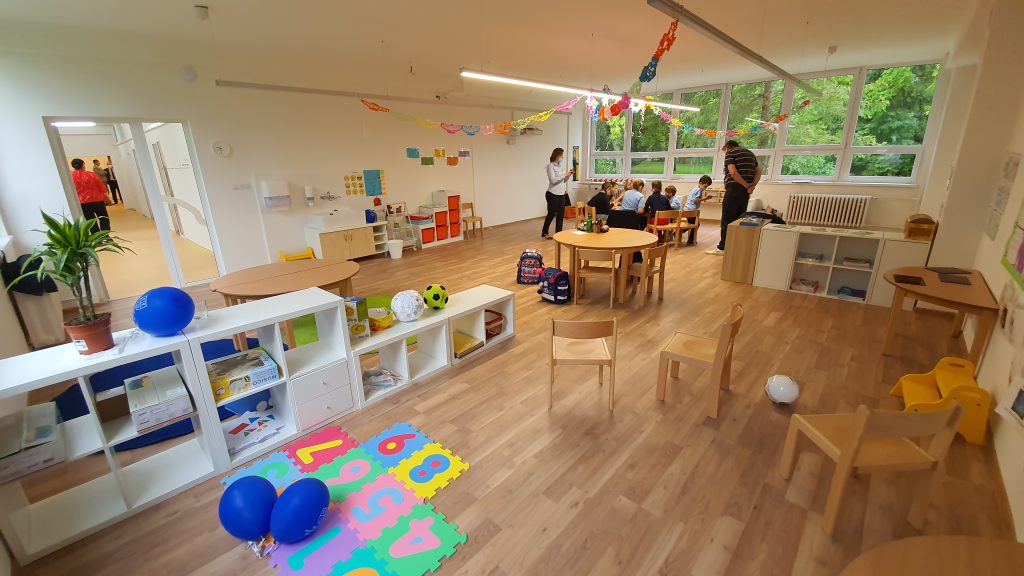 Native-level English teachers
We carefully select passionate and internationally-experienced IB PYP Teachers who are native-level English speaking candidates (eg: UK, USA, EU, Aus, NZ) from all around the world, to ensure your little treasures will get an enriching start to life.
Healthy Food
Not only the world-class curriculum and experienced teachers form the future of our kids. Correct and healthy eating habits with an access to the right nutrition for children is carefully selected and provided at KEIS.
KEIS has formed a special bond with The European Food Information Council who provide science-based food safety, quality, health and nutrition to the EU, with a particular interest in school lunches. Our school lunches will empower our students with healthier and more sustainable food and lifestyle choices.
We provide quality ingredients and modern recipes as an essential part of our school Personal, Social and Physical Education (PSPE). We believe in low-sugar, low-fat, and a high share of fibre, enriched with vegetables and fruits attractively prepared for our students. We also serve gluten-free and lactose-free alternatives for those who need it. KEIS canteen can also accommodate kids with some types of histamine intolerance. Have a look at samples of our menus here .
KEIS aims to be the leader in school lunch quality in Eastern Slovakia.
Admission
KEIS accepts enrolment of students anytime and throughout the academic year. Feel free to fill our pre-admission form below. Our admission team will come back to you to invite you for a meeting to answer all your question about the school, procedures, curriculum, etc.
Pre-Admission Form
KEIS Admission Process in Easy Steps
Contact us for an initial explanatory meeting.
Fill-inn our official Application form + optional Scholarship application form (use the documents below). A scholarship is only available to students with Slovak citizenship or at least one parent with Slovak citizenship. Be aware that only a limited number of scholarships will be issued per year.
Please deliver the filled-in Application form + Scholarship application form personally or by email to office@keis.sk .
Pay the registration fee and send payment confirmation by email to office@keis.sk
Visit one of our virtual workshops – dates will be announced on our website and you will be also emailed about them.
You will be contacted via phone or email to arrange the face-to-face meeting with the admission team (Parents + Child + Headmaster) and inform you If you have been awarded a scholarship.
After the interview we will contact you in writing about your acceptance.
Once you have received an acceptance letter, the Education agreement can be signed.
Related documents
Application Form for the year 2021/22
Scholarship Application for Slovak students